Kauri Pass Trek - Trekking in India
Kuari pass trek is one of the best trekking in India experience to witness Mount Nanda Devi (the Goddess for the locals and nomads in the area) in different moods as well as trek closest to Nanda Devi National Park otherwise closed for tourist and declared as UNESCO World Heritage site. Trekking in India in Uttarakhand has so much to offer in terms of great mountain views, Himalayan culture, and rare flora and fauna and Kauri pass trek in Uttarakhand offers all of that at its best. Kuari Pass trek is a delight to the eyes and a sublime experience for the soul while you camp on the alpine pastures above the clouds with the high Himalayan peaks at a stone throwing distance and rest of the world far down below ........ Come and join us for a epic journey to explore deep yourself from the high Himalayan heights........
Fixed Departures : 2023

June - 12th & 19sth
October - 2th & 16th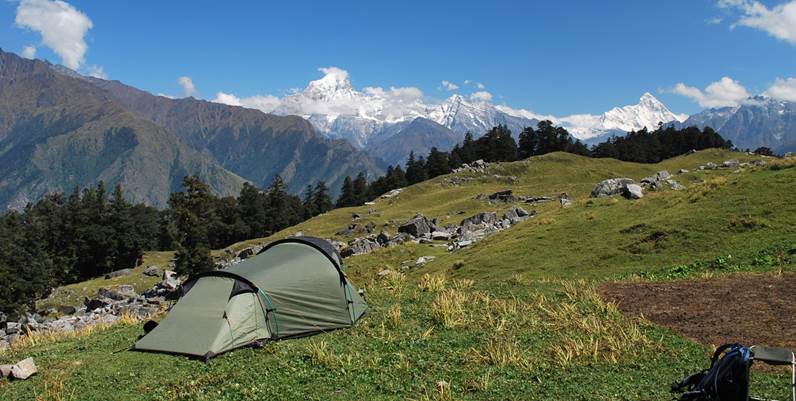 Pic by Wancy Lam Trekked in October 2012
Nanda Devi( 7818 mts), the beloved mountain Goddess of Garhwal Himalayas, whose territories mark one of the highest national parks in the world , abounds some of the most fascinating mountain peaks e.g Dunagiri (7066mts.), Changbang( 6864 mts), Kalanka(6932 mts), Rishipahar(6992 mts), Trishul I and II (7210 mts & 6319 mts), Mrigthuni (6565 mts), and Bethartoli hemal(6352 mts), and some of the rare Himalayan fauna e.g snow leopard, musk deer, monal pheasant, with great variety of birds and butterflies and rare Himalayan flora.

All this can be encountered at its best on Kuari Pass trek, which starts at Auli, one of the best ski slopes (in winters) in Asia. The entire trek goes through excellent meadows and thick forests of oak, and fir (cedar), with extraordinary views of Mt. Nanda Devi- in different moods. The trek also involves negotiating a high pass i.e Kuari(4268 Mts).
We also climb the Pangar Chula Peak ( 4575 Meters) for outstanding views of the Nanda Devi World Heritage Site.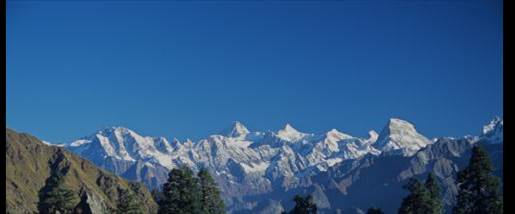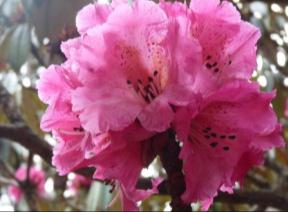 Panoramic view of the Himalayas from the trek Rare Flowers on the trek
Itinerary
DAY 01. RISHIKESH
Arrive Rishikesh in our office / Eco Lodge High Bank Peasants Cottage. Arrive & check in to High Bank Peasants cottage , our peacefully located Eco Lodge in Rishikesh. Evening visit the Ghat's s to encounter evening Ghat life as well as special Arti "The Prayer dedicated to Goddess Ganges" " the town of ashrams and temples, Ghats and pilgrims, mountains and the holy Ganges. When global orange sun suspended, waits low amid the red/yellow streaked horizon, then all these combine to give this town a very special evening. The temple bells roar, priests enchant mantras. Immersed in sublimation stand the pilgrims. Cupped leaves, with saffron marigold petals and a small candle flame, flickering ride the current of water of wisdom. Suddenly the sky darkens, spreading a blanket of stillness. Everything stops, except the sound of current, which has just sunk the tiny flames of cupped leaves, few minutes back. After experiencing above we trace ours steps back to the hotel. Dinner and overnight High Bank Peasants Cottage.
Day 02: RISHIKESH /JOSHIMATH DRIVE 9 HOURS OVERNIGHT HOTEL :
After an early breakfast drive to Joshimath (1890mt) via Devprayag, Rudraparyag, Karnparyag and Nandparyag, the most famous confluences of Garhwal Himalayas. Lunch enroute. Arrive Joshimath check in hotel, Later visit to small hill town, Joshimath is the winter seat of Lord Badrinath, Meals and over night hotel.
Day 03: JOSHIMATH / AULI / CHITRAKANTHA (3310 Mt) TREK 6-7 HOURS OVERNIGHT CAMP :
Early in the morning after breakfast 13 km drive to Auli, Later start your trek to Chitrakantha, one can see the magnificent view of Nanda Devi peak. Enroute we will cross the famous Bugyals (meadows) of Gorson and from here we can see the entire range of Nanda Devi sanctuary, along the Rishi Ganga. Meals and overnight stay in tents.
Day 04: CHITRAKANTHA / KUARI PASS BASE. Trek 3hours. Camp.
In the morning after breakfast we will trek to Kunwaripass base camp(3350mt). Rest day to acclimatize to climb the peak for next day.
Day 05 : Climb Pangarchulla peak. 4575 meter.
The Pangarchulla peak is a beautiful climbing opportunity, while on the expedition. Get a glimpse of the glorious Himalayan peaks and its landscape. The summit attempt would be started very early, in the morning, so as to cover maximum ground before the dawn. Participants would need to be roped up for a large portion of the climb. After the summit, we return to the base camp.
Day 06 : KUARIPASS / DHAKWANI TREK 4 HOURS OVERNIGHT CAMP :
In the morning after breakfast we will trek to Kunwaripass top(3850mt). The trek is its gradual climbing on the ridge till Kunwaripass with same view as from Garson. Enjoy the panorammic view of Great Himalayan peaks, Later trek down to Dhakwani (3100mt), Arrive Dhakwani and camp, Meals and overnight tents.
Day 07: DHAKWANI / PANA (2650 Mt) TREK 6-7 HOURS OVERNIGHT CAMP :
In the morning after breakfast trek to Pana. The entire trek goes through the forest with up and down way, Enroute we will find lush green meadows, water falls, snow clapped mountains and much more. Arrive Pana and camp, meals and overnight stay in tents.
Day 08: PANA / SEEMKHARAK (2550 Mt) TREK 5-6 HOURS OVERNIGHT CAMP :
In the morning after breakfast we will trek to seemkhark via Jhinjhi village, Today the trek is decending first and then assending through the village, Arrive Seemkharak and camp, Meals and overnight camp.
Day 09 : SEEMKHARAK / GHUNI (1700 Mt) TREK 4-5 HOURS OVERNIGHT CAMP :
Morning after breakfast 2 and ½ hours trek up to Chachnivinayakpass(3400mt) Later trek down to Ghuni village on the way enjoy the view of Ghat valley, Arrive Ghunni and camp, Meals and overnight camp.
Day 10 : GHUNI / GHAT TREK 4-5 GHAT /RISHIKESH DRIVE 4-5 Hours. Overnight hotel .
Early morning after breakfast trek down to Ghat . Arrive Ghat & Lunch. After lunch commence drive to Rishikesh. Tour Terminates.


Mt Nanda Devi from Tali
ALTITUDE: JOSHIMATH:196 MTS., AULI:3030 MTS., KUARIPASS :4268 MTS.,
BEST TIME : APRIL TO JUNE & OCT TO MID OF DECEMBER. GRADE: MODERATE.
*Package Tariff*
Special Discounted offer for 2023 - INR* - 39,999 Per Person
*Indian Rupees
The package costs are inclusive of :
1. Twin sharing accommodation as per the itinerary. Single room can be provided on a supplementary cost.
2. All meals during the entire trip- from dinner on day 01 till lunch*on day 10.
3. Transportation from Rishikesh to Rishikesh by Toyota jeeps
4. Services of English Speaking trekking guide during the entire trip.
5. Portage of 01 piece of personal rucksack (15 Kgs. ) on the trek.
6. Trekking permits & fees on the trek.
7. Portage of camping equipment, food, kitchen equipment on trek.
8. All tourist taxes on the trip.
9. Visit to the entire place as per the itinerary.
The Package costs Do Not Include:
1.Items of personal nature e.g table drinks, telephone, insurance, medical services, evacuation and services in landslides & unforeseen Circumstances.
2. Riding ponies on the trek.
3. Services other than specified above.
The Package costs are :
1. Subject to government GST which is at present 5%
2. Nett. & non commissionable.
3. Valid for trekking season of 2022 from March to November.
Number of Persons on the trek:
To ensure low impact treks & personalised services Maximum number of person on any trip goes to 09.
Food on the trek:
We emphasize on clean and hygienic meal s on the trek . Breakfast & Dinner are full hot meals. Lunches are picnic lunches as we driving or trekking that time.
Water on the trek:
we carry ample of bottled water in the jeep which can be used for the driving days. For the trek we use boiled stream water, which is equally good or some time better.
Your accommodation during the trek:
To get the real experience & feel of trekking, we fix camp every evening at every destination.
Your accommodation in Rishikesh before & after the trek:
We have our own best located guest house in Rishikesh , which you can use before and after the main trek. Please visit us to get the details www.highbank.in
Your Travel to Rishikesh
- As we have a fleet of cars & jeeps, we shall be happy to provide you pickups from Delhi & Dehradun Airport. We shall also help you arrange you flight or train tickets from Delhi to Haridwar & Dehradun.
First Aid on the trek:
we carry a good first Aid Kit on the trek, however it is recommended to carry your own specific requirements.
Package Tariff
- The above package tariff is for standard option. You can also opt for customized options with luxury transport, better accommodation & meal options & highly professional staff on the trip.