Roopkund Trek - Unveiling the Mountain Mysticism
Roopkund trek in Uttrakhand is one of the best trekking in India experience for seasoned trekkers. Roopkund trek in India, take you to the high passes and beyond to the some of the best Bugyals , the alpine pastures for unprallal high altitude camping experiences with great view of the Himalayan peaks, sighting of rare Himalayan flora & fauna and cultural encounters with the rich cultures of Indian Himalayas. Roopkun trek in Uttarakhand is also the route for the famous Jat Yatra which happens in every 12 years, where people from world over join the local villagers to take there beloved Goddess Mt. Nanda Devi to her home. A true epic journey of a life time being the part of the Himalayan culture for over a month long travel of going deep to the roots of mountain mysticism.
Fix Departure Dates 2023

May : 15th
June : 12th & 19th
October :4th& 16th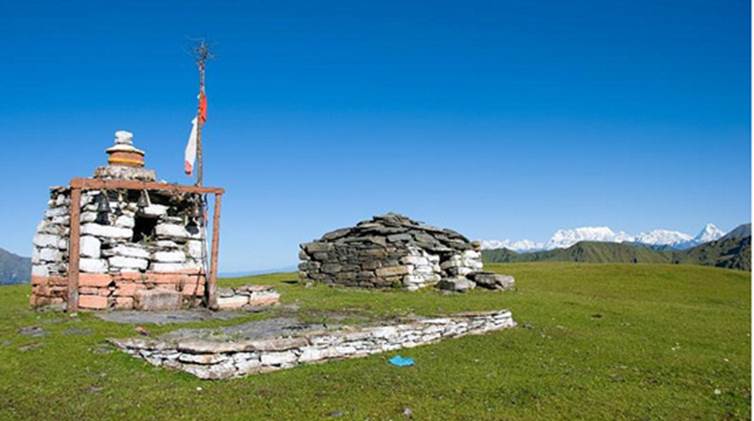 Besides its rivers, rivulets and streams, Garhwal is famous for its high altitude lakes, which hold up a mirror to the awesome peaks that surround them. Not one of the most beautiful, but certainly the most fascinating lake in Garhwal Himalayas is "Roopkund", the mystery lake. At an altitude of 4777 meters, this glacial lake is about 50 meters in diameter. It is so named, because of its banks lies the remains of human skeleton of scores of men who perished many centuries ago. Many mythological accounts and stories are heard about the remains, they range from Tibetan traders to refugees to Tughlaks army, who were on a mission to Tibet, under General Zorawar Singh.

One can witness the excellent close views of Nanda Ghunti (6309 meters), Trishul (7142 metres), Chaukhamba (7138 meters) and other important peaks.

Apart from lakes and peaks, the trek passes through one of the best 'Bugyals' the alpine meadow of the area, i.e. Bedni have long been related to myths and mysteries. Even today, the local people witness the presence of fairies. According to a popular belief the Vedas were written in sylvan haunts of Bedni. Regularly visited and worshipped temple of Goddess Nanda Devi is situated amidst the meadow.

Some time in 1905 Dr. Tom Longstaff, the famous mountaineer, happened to reach Roop Kund (lake) in the course of his search for the Nanda Devi base. He stood dumbfounded by what he saw near the small oval lake 76m x 46m. Hundreds of human skeletons by strewn beside the lake. Many stories have been fabricated and many theories advanced to explain those skeletons. However, the mystery has remained unsolved to this day.

A Nine days trip which involves trek to one of the high altitude Himalayan lakes and spiritual journey to one of the four most sacred place and source of second most important river of Northern India.

Getting to Roop Kund
Situated at an altitude of 5029 mts, the lake lies in the lap of Mt. Tribhuj. The starting point of this trek is Lohajung Pass (30*01'N, 79*34'E), easily approached from Rishikesh-Karna Prayag or Nainital. The Rishikesh route is more commonly used . From Nainital this road goes to Almora, Baijnath and then to Gwaldam - Debal to Lohajung pass.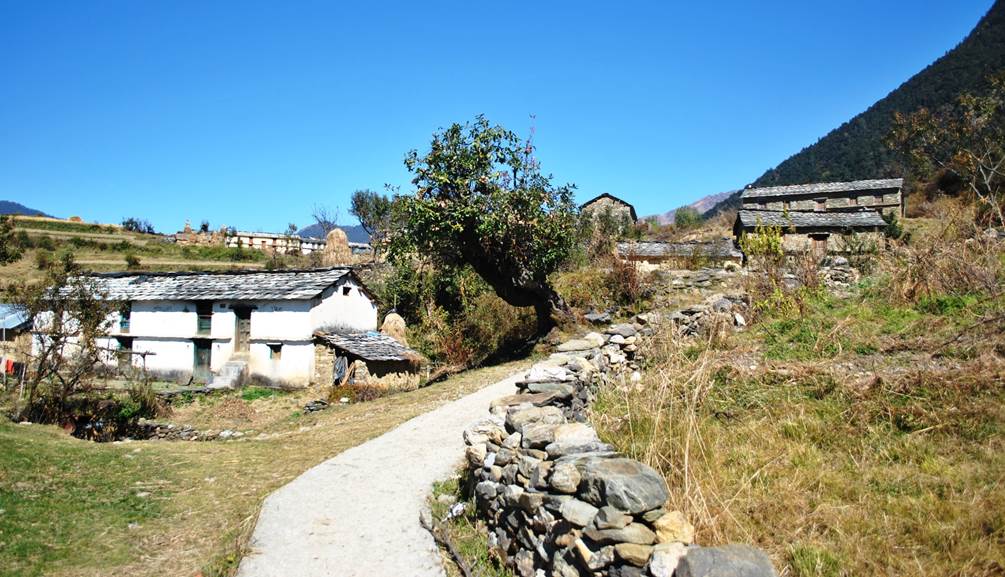 Itinerary
DAY 01. RISHIKESH. OVERNIGHT GUEST HOUSE.
Arrive Rishikesh in our office / Eco Lodge High Bank Peasants Cottage .Arrive & check in to High Bank Peasants cottage , our peacefully located Eco Lodge in Rishikesh.
Evening visit the Ghat's s to encounter evening Ghat life as well as special Arti "The Prayer dedicated to Goddess Ganges" " the town of ashrams and temples, Ghats and pilgrims, mountains and the holy Ganges. When global orange sun suspended, waits low amid the red/yellow streaked horizon, then all these combine to give this town a very special evening. The temple bells roar, priests enchant mantras. Immersed in sublimation stand the pilgrims. Cupped leaves, with saffron marigold petals and a small candle flame, flickering ride the current of water of wisdom. Suddenly the sky darkens, spreading a blanket of stillness. Everything stops, except the sound of current, which has just sunk the tiny flames of cupped leaves, few minutes back. After experiencing above we trace ours steps back to the hotel. Dinner and overnight High Bank Peasants Cottage.
Day 2.RISHIKESH / LOHAJUNG(2590 mt) DRIVE 7-8 hours . OVERNIGHT CAMP
Early morning after breakfast drive 240 km. to Lohajung which is a newly developing village market. Enroute witness the famous and Sacred 'Prayag', Confluence of the mighty rivers namely. Deoprayag, Rudraprayag, and Karnprayag, From Karna Prayag the road follows the Pindar River south-east for 33 km to reach Tharali from where we cover the remaining 15 km to Lohajung. Meals and overnight in camp.
Day 3. LOHAJUNG /DIDINA VILLAGE (2677 mts) TREK 4 - 5 hrs. OVERNIGHT CAMP
Grade : First Part descending up to Raun Bagad bridge over Neel Ganga, moderate difficult climb up to the camp site at Didana Village. Lohajung a small village market legend where says Goddess Nanda defeated Demon Lohasur after which this place is known as Lohajung. Formerly known as Lohajung Pass. Morning after Breakfast trek down to Raun Bagad Bridge where we cross the Neelganga Stream and then a moderate climb takes you to Village Didana. Packed lunch enroute. Meals and overnight in camp.
Day 4. DIDINA VILLAGE / BEDNI BUGYAL (3354m) 6-7 hrs OVERNIGHT CAMP
Grade : Bit difficult climb up to Tolkan and then from here the gentle climb to the camp site at Bedini Bugyal.
Start early from Didna. Before the weather closes in the afternoon you have to leave most of the climb behind you. Otherwise you will miss the best views of Ali Bugyal and surroundings with Trishul Peaks (7120 mts). The trail to Ali Bugyal via Tolpani is a steady climb through some of the dense oak and rhododendron forest. From Tolkan get ready for the gentle climb to reach Bedini Bugyal through the beautiful and carpeted Ali bugyal. Overnight stay and meals in tents.
Day 5. BEDNI BUGYAL / BHAGGUBASA (4677m) 9 km 5-6 hrs OVERNIGHT CAMP
The trek begins with a 3 km climb to the ridge Bistola. Then a gentle walk up to Ghoda Loutani from where steep ascending up to Kalu Vinaik Dhar via Patar Nachouni. This is the most strenuous part. The climb to Kalu Vinaik is a steep zig-zag up to the small rock temple is located where a black idol of Ganesh ji is worshipped by the shepheards and trekkers.
In Bhaggubasa an improvised stone shelter and camping site provides a spectacular view of the majestic Trishul and on the other side deep silent valleys covered with clouds. In May and early June this place is covered with snow. Overnight stay and meals in tents.
Day 6. BHAGGUBASA /ROOPKUND/BHAGUBASA (5029 mts) 10 km OVERNIGHT CAMP
It is an arduous trek of 5 km to Roop Kund. Better to climb early up to Roopkund while the snow is still hard. In the morning as the sun goes high the snow becomes softer and your feet start sinking in. There's plenty of snow even in the middle of summer. If the snow is not too deep, the skeletons and remains of human beings and horses can be seen surrounded by glaciers and high peaks, the lake presents a magnificent sight. Explore the area and start walking back to Bhaggubasa. Overnight stay and meals in tents.
Day 7. BHAGGUBASA/ WAN VILLAGE (2439m) 19 km OVERNIGHT CAMP
From Bhaggubasa first we take the same way back up to Bedini Bugyal. Pass the Bedni camp site and you get to the tree line and sharp descent that signals the end of the meadows. Run down into the oak and Rhododendron forest you get to Gairoli Patal. The trail goes steep descent to the down stream called Neel Ganga. crosses a log bridge and the trail starts gentle ascending and after covering some distance it arrives at a huge hump known as Ranakdhar where on the occasion of NANDA RAJ JAAT, a festival observed every 12 years. From Ranakdhar it is a gentle walk to wan village where a famous temple of LATU DEVTA the brother of Ma Nanda is situated. Meals and overnight stay in camp.
Day 8 : WAN VILLAGE TO RUDRAPRAYAG Trek (700m) Drive: 120 km OVERNIGHT HOTEL.
Early Morning follow the trail to the lower Wan village where one can encounter the centuries old Cyprus trees. A short walk takes you touch the road known as Kasar Bagad. From Kasar Bagad we ride on our vehicle and head to Rudra Prayag. This 90 km Drive takes 5 to 6 hours. Overnight stay in hotel.
Day 9 : RUDRAPRAYAG / RISHKESH 132 km. Drive 5-6 hours.
Morning after breakfast drive back to Rishikesh. Hot lunch enroute. Tour terminates up on arrival at Rishikesh. One can take the fast train Shatabdi Express from Haridwar for Delhi departing 06:13 PM reaching Delhi 10:30 PM or Take a 50 minutes flight from Dehradun Airport ( 30 minutes' drive from Rishikesh)
Package Tariff*
Special Discounted Package cost for 2022- - - - INR*-39,999 PerPerson *Indian Rupees
The package costs are inclusive of :
1. Twin sharing accommodation as per the itinerary. Single room can be provided on a supplementary cost.
2. All meals during the entire trip- from dinner on day 01 till lunch*on day 09.
3. Transportation from Rishikesh to Rishikesh by Toyota jeeps
4. Services of English Speaking trekking guide during the entire trip.
5. Portage of 01 piece of personal rucksack (15 Kgs. ) on the trek.
6. Trekking permits & fees on the trek.
7. Portage of camping equipment, food, kitchen equipment on trek.
8. All tourist taxes on the trip.
9. Visit to the entire place as per the itinerary.
The Package costs Do Not Include:
1.Items of personal nature e.g table drinks, telephone, insurance, medical services, evacuation and services in landslides & Unforeseen Circumstances.
2. Riding ponies on the trek.
3. Services other than specified above.
The Package costs are :
1. Subject to government GST which is at present 5%
2. Nett. & non commissionable.
3. Valid for trekking season of 2022 from March to November.
Number of Persons on the trek: To ensure low impact treks & personalised services Maximum number of person on any trip goes to 09.
Food on the trek: We emphasize on clean and hygienic meal s on the trek . Breakfast & Dinner are full hot meals. Lunches are picnic lunches as we driving or trekking that time.
Water on the trek: we carry ample of bottled water in the jeep which can be used for the driving days. For the trek we use boiled stream water, which is equally good or some time better.
Your accommodation during the trek: To get the real experience & feel of trekking, we fix camp every evening at every destination.
Your accommodation in Rishikesh before & after the trek: We have our own best located guest house in Rishikesh , which you can use before and after the main trek. Please visit us to get the details www.highbank.in
Your Travel to Rishikesh - As we have a fleet of cars & jeeps, we shall be happy to provide you pickups from Delhi & Dehradun Airport. We shall also help you arrange you flight or train tickets from Delhi to Haridwar & Dehradun.
First Aid on the trek: we carry a good first Aid Kit on the trek, however it is recommended to carry your own specific requirements.
Package Tariff -The above package tariff is for standard option. You can also opt for customized options with luxury transport, better accommodation & meal options & highly professional staff on the trip.